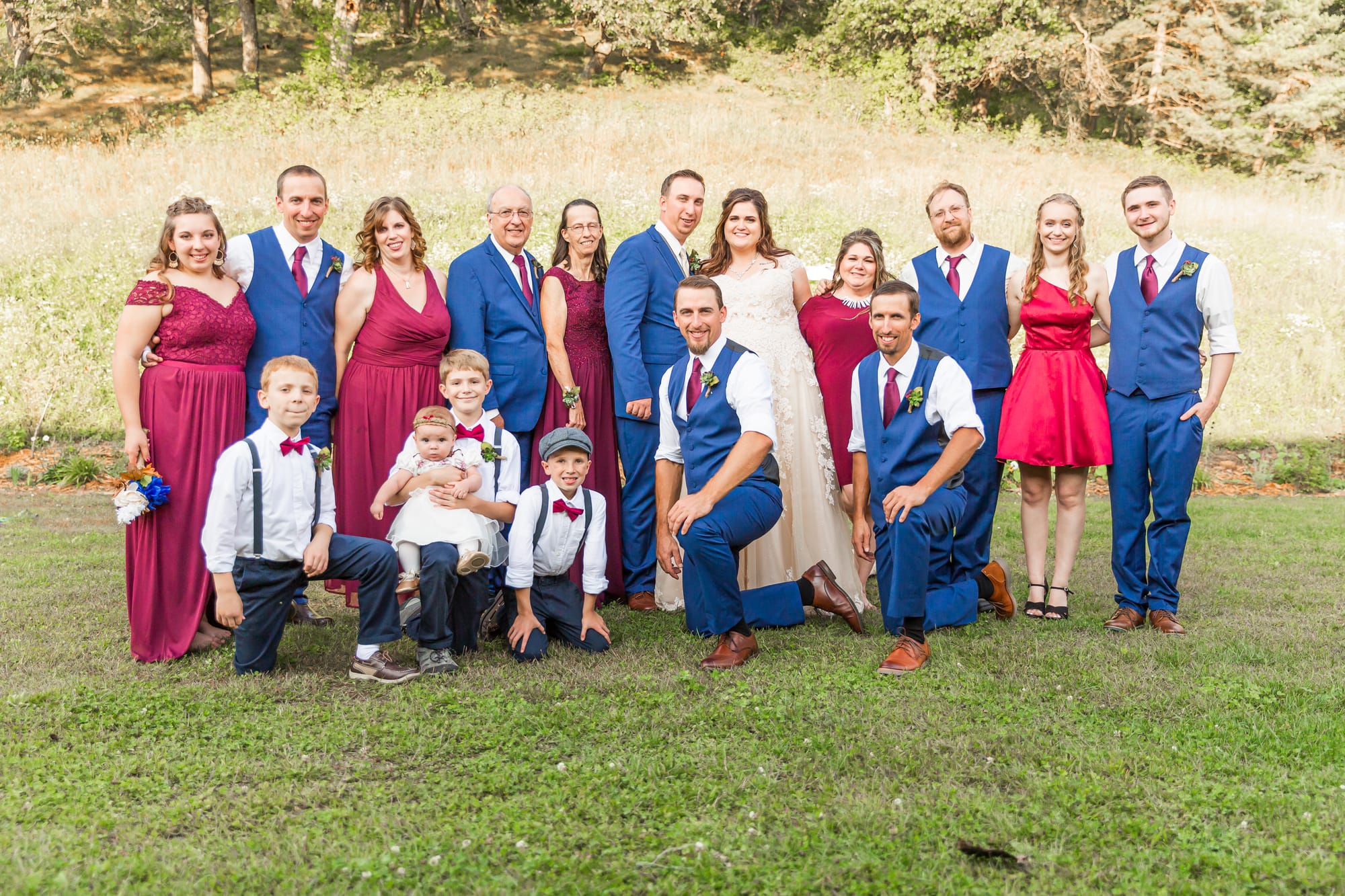 In almost every wedding we photograph, if a schedule goes awry, it is almost always during the family photos. There are few things to keep in mind with family photographs, to help keep your guests excited, energized, and YOU stress free.
Talk to the photographer about how long to schedule
Your photographer should have an active role in planning your schedule, whether that's through consultations with you or with your wedding planner, if you have one. Family photos can generally be captured in around 2 minutes per grouping, but there are a couple of exceptions to this, talked about later on.
Try to keep the groups to immediate family
You don't need an image with every cousin, nephew, uncle, 3rd aunt once removed and their kids. At least not during the family photos. I always encourage brides to stick to immediate family (parents, grandparents, and siblings). With some mixed and larger families, these simple groupings alone can take a really long time. The extended family can have photos taken during the reception, just let your photographer know that you want to get some images with those groups, and talk about when they could best be accomplished. This becomes even easier if you opted for a first look, since more time will be spent with family and friends after the ceremony.
Some couples may balk at the idea of not having the extended family in the photographs. That's okay! Especially for really close families, they can be an integral part of your support structure. Just be prepared for the next issue to crop up.
The larger the group, the larger the delays
This is an exponential trait that I honestly can't really explain. But if you do decide to have extended family, or even if you have a large group of immediate family, the more individuals that are involved in those groupings, the greater the delays will become. Uncle Joe will go and use the restroom at the most inconvenient time; Cousin Shaina will disappear and not answer her phone right before she needs to go up; the delays will stack and increase stress and time.
Again, this might still be worth it for you, just consider the necessity of the family members for the family shoot. A professional photographer will work with you to plan for these considerations and mitigate them.
Plan to have the kids in the first groups
If you've been around kids for zero point three seconds, you know their attention span (especially after what, to them, probably seems like a boring ceremony) is zero point one seconds. As such, make sure your photographer knows who the kids in the group are (if there are any) and plan the groupings accordingly. Get them in early when they're more likely to be well behaved, or risk getting crying faces, uncontrollably silly faces, or angry faces. Of course, those can be pretty cute images, too.
Finally, consider any mobility issues
If you have family members with mobility needs or limitations, make sure your photographer is aware of them and can plan for a family photos spot that will allow everyone you want to partake in them to be accommodated and able to fully enjoy being included in this part of your day - forever commemorated in the family images. This could, depending on the ceremony venue and whether a change of location is required (or even just desired), add more time to your day. As with all things, open communication with your photographer will help mitigate or eliminate these concerns from your day, allowing you to keep your stress levels low!
Your family photos do not need to, and should not, derail your timeline. Lean into your photographer's expertise to help plan for the unexpected delays, and your family photos will be just one more great experience!