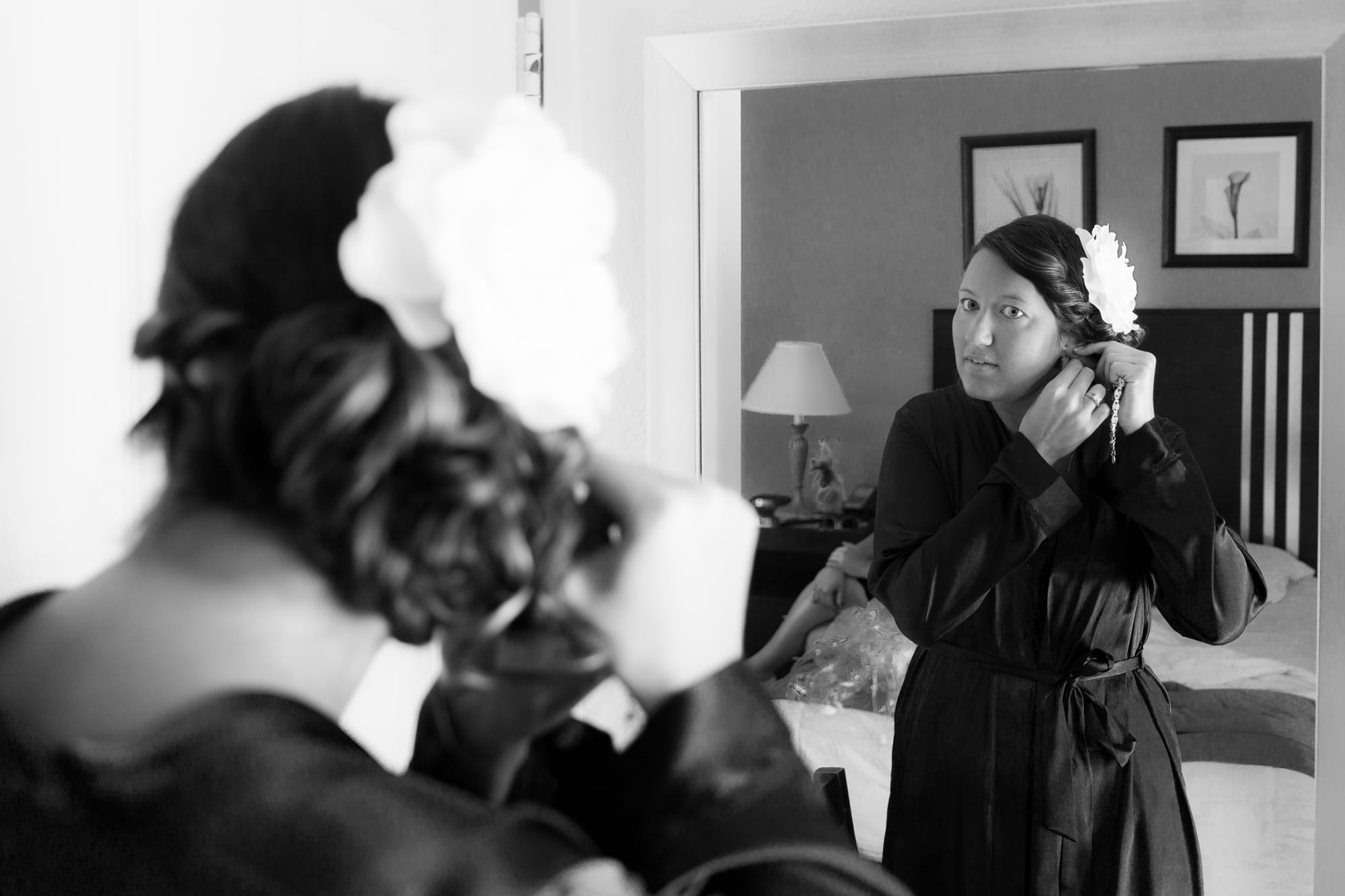 With all the wedding expenses you already know about, from the venue to the other main vendors, it can be really easy to skimp on the "getting ready" location.
But you really really really REALLY don't want to.
There are a couple things to think about when deciding where to get ready.
Distance from the venue
This is probably the most obvious of the considerations, but it is an important one. The shortest distance would obviously be at the venue itself, though sometimes that isn't always possible, or at least isn't always preferable.
How much space to spread out
Some people are messy by nature, others are more.....chaotic. But one thing is for sure: when you and your favorite ladies are getting ready, there will be a lot of chaos. Purses, bags, makeup, shoes, clothes, somehow these things will get everywhere. Having a little more space to spread out not only helps manage the mess, but it also makes it easier to find and pose amazing photographs without having a pile of stuff in the background.
How much light is possible
If you're not used to thinking about this, it can be a bit of a shock. Large windows, big glass doors, things that allow tons of light to pour into your getting ready area are going to make your images look so much more regal, romantic, and amazing. Every photographer prefers to use natural light above our flash technology, and most brides and bridal parties prefer it, as well. It can take some time to get used to the constant bright flash of light that happens when a photographer is forced to use their flash, and picking a location that (in ideal circumstances) has gobs of natural light will help mitigate this, and leave everyone less frustrated on the big day. Obviously, this can't account for rainy/overcast/generally gloomy days, but even on those days, your images will look better with the big windows to the outside.
Interesting architecture/design
This is another that you may not consider. You want your wedding images to look like you, and your getting ready images shouldn't be any exception to that. Choosing a location that has some really awesome staircases, mirrors, artwork, architecture, etc. can go a long way to making sure your images stand as a testament to your unique beauty. Don't be afraid of having to drive an extra 15 minutes to get ready in a place that allows you to be comfortable, relaxed, excited, and beautifully and uniquely YOU.
Don't forget about the boys
There are so many weddings where the bride is getting ready in this really well lit area, and the guys have been quarantined to a room in the church with folding chairs and no light. By no means do you need to spend as much on guys (generally that kind of expense would be lost on them anyways ;-) ), but consider if they're going to be going to barber to get a clean fresh shave the morning of, or give them reign to move around to some areas with more dynamic scenes. You'll always be happy you considered it, even if the guy rolls his eyes.
So there you have it. Some tips for getting the best images out of your getting ready moments. There's no hard and fast rule for where this could be, and if your venue has a stunning area to get ready that meets the requirements, go for it! It's okay if it doesn't, but it's worth asking and if you're not sure, talk to your photographer and see what they think!